March 13-31, 2019
Click here for tickets
GABRIELA CARRILLO (Florence) is thrilled to be making her debut at Coachella Valley Repertory Theatre and helping to break in the beautiful new theatre with this production of CHESS! Gabriela is a Chicago native but now resides in Los Angeles with her partner Geo and rescued poodle mix, Mochi. She attended college at Berklee College of Music in Boston, where she not only studied musical theatre, but had a major focus in vocal performance and songwriting. Favorite roles include Miriam in Prince of Egypt at Tuacahn Amphitheatre and Sheila in Hair at Berklee. She is a proud member of the Actors' Equity Association. Aside from musical theatre, Gabriela also runs a successful astrology/lifestyle YouTube channel and regularly releases her own original music. Her songs can be found on iTunes, Spotify, Pandora etc. under her artist name, "Gabriela Francesca." Follow her on social media at @gfrancescamusic
MICHAEL DOTSON (Molokov) is honored to make his Coachella Valley Repertory debut with this production of CHESS. In LA he just finished another highly political and timely production, 1776, where he played one of the founding fathers, Roger Sherman. Across the country Michael has appeared in over 100 productions. Some of his favorite roles include (Cogsworth) Beauty & the Beast, (Lawrence) The Andrews Brothers, (Sid Sorokin) The Pajama Game, (Frankie) Forever Plaid and (Ewart Dunlop/Quartet) The Music Man in Concert with the legendary Shirley Jones. As a factotum of the theater Michael has been an actor, stage manager, writer, production manager and director. As a director, Michael has led productions including 110 Stories, Forever Plaid, Cinderella, and Godspell. He earned his Bachelor of Fine Arts degree in Theater from the University of Southern California. Michael is a proud member of Actors' Equity Association and serves on its national governing board. LSL-JPA!
ASHLEY HUNT (Svetlana) is thrilled to be joining the CVRep family! National Tours: Miss Saigon (Ellen), SWING! (Laura & Ann). Regional Theatre: Crazy for You (Irene Roth), Children of Eden (Yonah), SWING! (Laura), Babes in Toyland (Little Miss Muffet, Susannah). Some other favorites include Luisa in NINE and Whitney in A Piece of My Heart. She would like to give all her love and gratitude to her husband Michael, family, friends and Bella for their love and support. Nonnie, this one's for you!
GARRETT MARSHALL (Freddie) is thrilled to be part of this incredible cast and crew. Garrett is a graduate of the Pacific Conservatory of the Performing Arts and has been working in the Southern California area for the past nine years. His work includes Beast in Beauty & the Beast (Musical Theater West), Edward Rutledge in 1776 (Cabrillo Music Theater), Billy Nolan in Carrie the Musical (La Mirada Theater for the Performing Arts), Marius in Les Miserables (Sierra Repertory Theatre) and Krisoff in Frozen Live at the Hyperion (Disney's California Adventure). Garrett would like to thank the cast and crew of this wonderful production, his mother, family, friends and agents for their tireless support, Batman for teaching him never to quit, and you dear reader, for supporting the arts. Follow him on social media! @TheGarrettpm (twitter) GarrettpMarshall(Instagram)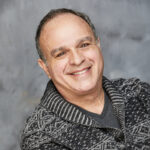 GLENN ROSENBLUM (Walter) has recently moved from Los Angeles and is a full-time resident of the Coachella Valley. Thrilled to be part of the valley's newest state of the art Equity Playhouse. New York: Off-Broadway: Lucky Lucy with Blythe Danner, Rise of David Levinsky. Los Angeles: Promises, Promises, Sugar, Mame, Zorba (Member of Musical Theatre Guild), Man of La Mancha with Ken Howard/Marilyn McCoo. Regionally: Guys and Dolls, Cabaret, Little Shop of Horrors. TV: Bones. Solo cabaret, Glenn Rosenblum is The Musical Man at Rockwell-LA, Crystal Cruises. Glenn is also a frequent lecturer on board Crystal Cruises about the History of Musical Theatre. BA Theatre UCLA.
DAVID SATTLER (Anatoly) is pleased to make his debut with Coachella Valley Repertory. Tours/Regional: European Tour of Grease (Danny), Kiss Me Kate (Fred/Petruchio), Hunchback of Notre Dame (Phoebus), Evita (Che), Chicago (Billy), All Shook Up (Chad), Urinetown (Bobby), West Side Story (Tony), Carousel (Billy), Beauty & the Beast (Beast), The Pajama Game (Sid), The Who's Tommy (Tommy), Annie Get Your Gun (Frank), City of Angels (Stone), On The Town (Gabey), Bye Bye Birdie (Conrad), Damn Yankees (Joe Hardy), Miss Saigon (John), Blood Brothers (Narrator), Joseph… (Pharaoh), Children of Eden (Adam/Noah), Into The Woods (Cinderella's Prince/Wolf), and the world premiere of The Prince of Egypt. Originally from San Francisco, but now living in New York, he got his BA in Acting from SFSU. David would like to thank family and friends for all of their love, encouragement, and support.
JEREMY WHATLEY (Arbiter) is excited to be making his debut at Coachella Valley Repertory! Recent credits: The Color Purple (Harpo), Princess Cruises (Europe & Asia tour), In The Heights (Benny), Sister Act (Eddie Souther), The Wiz (Tin Man), and Parade (Jim Conley). He would like to thank his parents, who have been the most supportive people he could ever ask for!!! A huge thank you to all of his friends for their consistent encouragement. He dedicates this performance to his Grandmother, Irene Powell. #StriveForGreatness @just.jer.emy www.jeremywhatley.com
SYDNEY CLEMENSON (Ensemble) is originally from Des Moines, IA. She graduated with a Bachelor of Arts degree in dance from Loyola Marymount University (Los Angeles) in 2014, and furthered her training in classical ballet and modern at the Ailey School in New York City. After traveling and dancing for Holland America Cruise Lines, she returned to the city to continue her artistic journey, finding herself immersed in the world of acting through Meisner technique at Matthew Corozine Studios in midtown Manhattan. Sydney completed the 2017 summer program at American Conservatory Theater in San Francisco and moved to Palm Desert shortly after. She is a dancer, actor, and singer/songwriter, and looks forward to releasing an album of original music in 2019. Sydney would like to thank her vocal coach, Alix Korey, for her wonderful instruction and encouragement, as well as her family for all their love and support.
BRIANNA MALONEY (Ensemble) is making her CVRep debut! Past credits include: Dezart Performs- Legend of Georgia McBride; Musical Theatre University- Les Miserables, In the Heights, A Chorus Line, Legally Blonde; Palm Canyon Theatre- Sweet Charity. She is a recipient of a 2018 DTL Best Leading Actress award for her work in Encore Theatre District's Lydia. Dance credits include: McCallum Theater Open Call two-time finalist under the direction of Hartin Dance Company and McCallum Theater's Choreography Festival through Jenny Backhaus's Studio Project. Finishing her last semester at College of the Desert, she will be transferring to a 4-year university to continue her B.F.A. in Musical Theatre. She is overjoyed for this opportunity, and thanks her family and friends for the endless support!!
CASSIDY McCARRON (Ensemble) is an AMDA grad who spent 3 years in New York City performing in many Off Broadway productions, from comedic twists on classic Fairy Tales, to the tragedies of Shakespeare. While living in Palm Desert she studied under David Green at The Desert Cities Musical Theatre University while attending Rancho Mirage High School. There she performed in numerous productions including Into the Woods, A Chorus Line, In the Heights and more, side by side Broadway Greats such as Alix Korey, Sal Mistretta, and Lindsay Mendes. She has training in film, singing, dance, improvisation, various dialects, and stage combat. A desert native, Cassidy is looking forward to being back on the west coast and immersing herself in the Desert Wide arts community.
MICHAEL RAWLS (Ensemble) is excited to be a part of his first production with CVRep! Past regional credits include A Midsummer Nights Dream (Chicago Shakespeare Theatre), Pippin (Mercury Theater), Man of La Mancha (Skokie Theatre), and The Wiz (Kokandy Productions). He would like to thank his family and friends for their undying support. Special shout out to Big Mouth Talent!
ROMAN SKRYABIN (Ensemble / Russian Dialect Coach) A recent desert transplant, Roman Skryabin comes from the "northern Venice" cultural capital of Russia, Saint Petersburg. Born in the late 70s, he experienced the final years of the Communist regime firsthand, and after graduating with a degree in philology in 2000, actively sought ways to escape to the decadent West. Pursuing a career in translation, he has found a new home in Palm Springs where he applies his talents in the industry (Palm Springs International Film Festival) as well as discovering new areas, like the live theater.
DANIEL SUGIMOTO (Ensemble) is an LA based award winning composer/actor with 'Community Outreach' awards from JACL (Japanese Americans Citizens League) and Special Commendations from Congresswoman Maxine Waters for creating, 'Meaningful contributions to American Culture'. His theatre company, The Zoo Theatre Company was recently nominated for 11 Regional Broadway World Awards and a Best Ensemble at last years Hollywood Fringe Festival. His most recent acting credits include Lumiere in Disney's Beauty & the Beastwith TNH Productions and Link  in My Date With Death with The Zoo Theatre Company. This is his first production with CVRep and he is excited to work with such a fantastic theatre company.
CHESS runs March 13-31, 2019
Performances are:
Wednesday-Saturday at 7:30 PM
Saturday & Sunday at 2:00 PM
Tuesday, March 26 at 7:30
Click here to purchase tickets or call the Box Office at 760-296-2966