Audition For Closer Than Ever
Deadline to Submit is December 17, 2021
SUBMIT YOUR AUDITION
About Closer Than Ever
Closer Than Ever is a musical revue in two acts, with words by Richard Maltby, Jr. and music by David Shire. The revue contains no dialogue, and Maltby and Shire have described this show as a "bookless book musical."
Personnel
Director, Ron Celona (viewing auditions)
Musical Director, Scott Storr (viewing auditions)
Lyrics, Richard Maltby Jr
Music, David Shire
Seeking:
Woman #1 – between 25 – 40yrs old
Woman #2 – between 25 – 40yrs old.
Man #1 – between 25 – 40yrs old.
Man #2 – between 25 – 40yrs old.
Southern California talent encouraged to submit. Our budget does not make it possible to seek out of state talent.
Submission Instructions
Please prepare 2 brief musical theatre songs. One character/storytelling song and one belt/ full out singing song that shows off your range. Please include vocal range with resume. You may also use the accompaniment provided at
https://www.dropbox.com/sh/tx0vxyr3ayyenzm
/AADp17iZ1geJ-rVoO33DY_3oa?dl=0
Equity's contracts prohibit discrimination. Equity is committed to diversity and encourages all its employers to engage in a policy of equal employment opportunity designed to promote a positive model of inclusion. As such, Equity encourages performers of all ethnicities, gender identities, and ages, as well as performers with disabilities, to submit.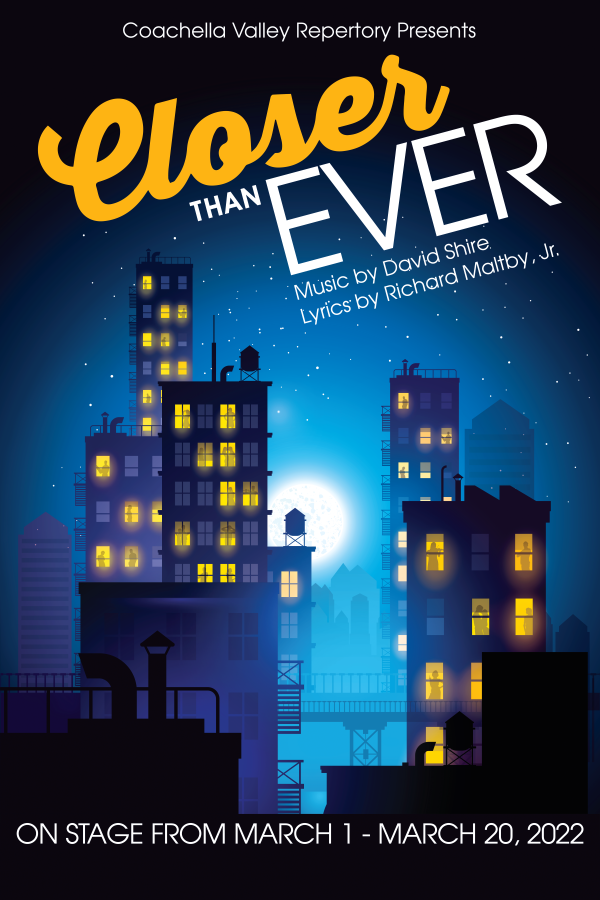 A look into the private song vault of Richard Maltby, Jr., and David Shire (Big; Starting Here, Starting Now; Baby), the review, Maltby and Shire's Closer Than Ever, is filled to the brim with the brilliance for which these musical theatre giants are known.