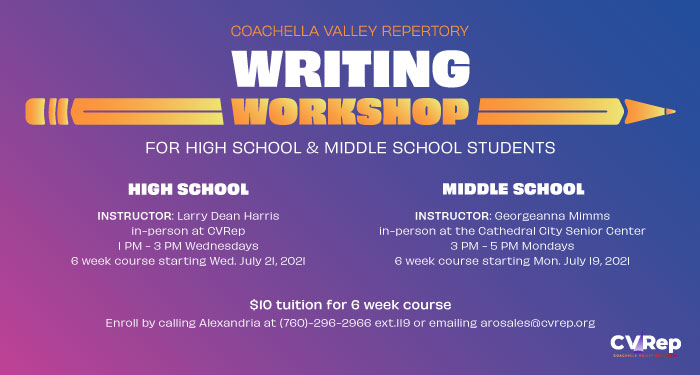 Larry Dean Harris has begun teaching his 6-week course to High School students in person at CVRep on Wednesdays from 1:00 pm to 3:00 pm. There is still time to register!
His course is $10 through August 25th. Enroll by calling Alexandria at (760)-296-2966 ext. 119 or emailing arosales@cvrep.org.
CVRep's Writing Workshop for Middle School Students has unfortunately been canceled.
Larry Dean Harris is a professional writer and teacher.
His plays have been performed in New York (New York Outer Critics Circle Award and GLAAD nominations), Los Angeles (Ovation, LA Weekly and GLAAD nominations) and at the Tennessee Williams Theatre Festival in Provincetown, MA. He serves on the National Council of the Dramatists Guild of America representing the Southern California region. As a storyteller, he is founder and producer of the popular LA story salon Strong Words (strongwordslive.com) and has performed across the country. He also teaches storytelling and performance.