Broadway World's Review: The Humans at CVRep
by Kay Kudukis Nov. 11, 2022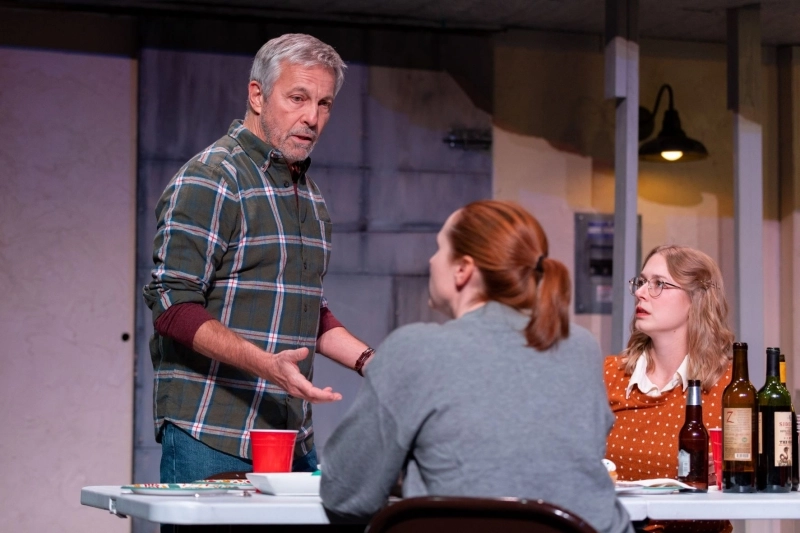 Like love, fear is specific to each human. Monsters under the bed; the Bogeyman; things that go bump in the night; losing your mind; losing it all – Stephen Karam's The Humans collects all of our fears and deposits them all into one play, The Humans. A 2016 review in The New York Times called it "The finest new play of the Broadway season so far – by a long shot." What they don't say is, "this play is dysfunctional and weirdly different."
CV Rep has never been one to shy away from dysfunctional and/or delightfully weird but new artistic director Adam Karsten has added a different level of weird into the mix. Although holiday themed, it's not warm and fuzzy. It's kinda creepy.
Here's the story: It is Brigid (Katie Peabody) and her boyfriend, Richard's (Ali Zahiri) first Thanksgiving at their new (yet very old) apartment in New York's Chinatown. In fact, they live there but they haven't quite moved in; there's no furniture save a few chairs and the dining table, and boxes are pushed up against the wall. Still, Brigid is proud of herself for finding it and has invited her mom, Dierdre (Barbara Lee Bragg) and dad Erik (Arthur Hanket) to come in from Scranton, PA. They've brought Erik's mother Momo (Mary Burkin), who suffers from dementia, and Brigid's sister Aimee (Katie Kerr), came in from Philadelphia, to celebrate Thanksgiving. And we all know how well that goes when three generations are in the same room for longer than 15 minutes during a holiday. If you are from one of those intergenerational families that all get along great, I can only surmise you are in a cult.
The walls to the apartment are paper thin, and so is everyone's skin. They bicker, it's mostly playful, mostly good natured, except when it's not. Most dramatically apparent is Brigid's underlying need for validation. As Brigid, Peabody fusses over dad, constantly touching everyone, then making jabs at mom and dad about having to pay for her own education before slipping right back into look-what-fun-we're-having Brigid. Clearly insecure, she is a starving artist who makes a living as waitstaff, and she thinks her family looks down on her (they just might) because her lesbian sister Aimee is a lawyer and makes big bucks. Brigid moans about her student loans, and at times treats Richard poorly, all while putting on, perhaps, too happy a face. She gets in a few zingers here and there, in particular when Dierdre tells Aimee about a local gay girl who killed herself after being bullied, "I texted you," Dierdre tells Aimee.
"You don't have to text her every time a lesbian kills herself," says Brigid, getting in her best jab of the night.
Everyone has a secret, and no one is happy, except maybe Richard, who suffered from depression in his twenties. Now in his late 30s, he's done extensive work on himself, and he's going back to school for his degree. Richard, it seems, exorcized his demons a while back; everyone else's are surfacing tonight. A very nice job by Zahiri.
The family players: Hanket gives us a solid performance as distracted Erik, who worries about everything, is likely suffering from PTSD, and has some rather unpleasant news to break to his kids.
Bragg gives a good turn as Dierdre, the underappreciated mom (let's face it, they all are), a forgotten employee, and a very understanding wife. I imagine she watches true crime with a glass or ten of wine.
Momo mutters or yells well-placed nonsense (is it really nonsense?) throughout the play, and is one of the horrors of being human, a constant reminder that old age isn't rosy, and that dementia sucks for everyone. Nice turn by Burkin. It's fun to see her perky at curtain call too.
The best performance of the night goes to Kerr's smart and nuanced performance as Aimee. Although Aimee's personal struggles are emotionally and physically debilitating, she is clearly the most level-headed and grounded of the bunch. Kerr is vulnerable and strong at the same time, and her scene with her sister, and then on the phone with her former lover are tear-worthy (I may have shed one or two). On the flip side, Kerr knows how to deliver a comedic line. Nice work.
In many plays and movies, tension is often underscored by an impending storm – cracks of thunder, flashes of lighting – but in this play, it is the astoundingly loud banging and other noises coming from the apartment above. "It's a 70-year old Chinese woman." Brigid tells them. But with a title like The Humans, you might wonder if that's just a disguise and she's an alien building a UFO.
As everyone's secrets are slowly revealed, tensions increase, and the banging intensifies. Then the lights begin to go out. First one, then all of them. Kudos to Moira Wilkie Whitaker once again on her lighting design, and welcome newcomer Karlene "Kiki" Rollers' and her sound design which gave us a few good jump scares.
Jimmy Cuomo, a very busy guy, has given us just the set we needed for this play. A remarkable two-story ramshackle of an apartment with a metal spiral staircase, wall sconces, windows, a kitchen, and a giant metal front door that looks like it could be the entrance to Frankenstein's lab.
I am excited to see what else Karsten has up his sleeve for us. He's got some great and very interesting plays coming up in his first season in the Coachella Valley.
That weirdness I spoke of earlier, I think, is the juxtaposition of how real and normal everyone's problems are but it is offset by the otherworldliness Karsten has created with his production team. It contorts reality for the characters and for the audience. And within that weirdness, that messiness, we get very human moments like when Erik, overcome with his laundry list of bills asks the question we all want to know, "Dontcha think it should cost less to be alive?"