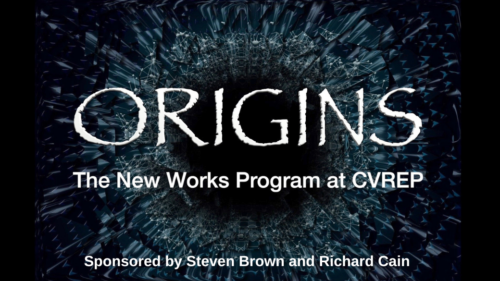 ORIGINS
The New Works Program at CVRep

ORIGINS will feature selected stage readings of brand-new works that will premiere on stage at CVRep. The 2023-2024 season, sponsored by Steven Brown and Richard Cain, will feature 4 brand new theatrical works. At the end of the season one of the readings will be selected to have a world premiere at CVRep the following year. It is a true 'page to stage' program that is committed to seeing the full development of the next Broadway Show. 
CVREP is creating a platform in which to give birth to the next great theatrical work of art. ORIGINS is a safe, creative, collaborative and flexible environment for writers, directors and composers to see their work reach its full potential. The emphasis is on providing these creatives an opportunity to collaborate on unfinished projects and to hear their work aloud.  Each project invited to join this process through ORIGINS will be fully funded and produced by CVREP, right here in Coachella Valley.
CVRep is a 501(c)(3) not-for-profit professional theatre company, that has Small Professional Theatre (SPT) status with Actors' Equity Association. Tax ID#95-4304295