"A handful of …isms"
Four productions including one rock opera musical that explores a handful of …isms, or an informal often derogatory, unspecified doctrine, system or practice: Socialism, Racism, Classism, Sexism, etc.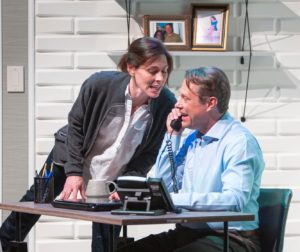 GOOD PEOPLEBy David Lindsay-AbaireMay 1-19, 2019Directed by Michael MatthewsActors: Reamy Hall (Margie), Nadege August (Kate), Barbara Gruen (Dottie), Michael Matthys (Mike), Candi Milo (Jean), Erik Odom (Stevie)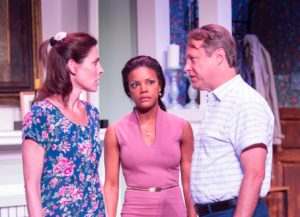 Welcome to Southie, a Boston neighborhood where a night on the town means a few rounds of bingo, where this month's paycheck covers last month's bills, and where Margie Walsh has just been let go from yet another job. Facing eviction and scrambling to catch a break, Margie thinks an old fling who's made it out of Southie might be her ticket to a fresh new start. But is this apparently self-made man secure enough to face his humble beginnings? Margie is about to risk what little she has left to find out. With his signature humorous glow, Lindsay-Abaire explores the struggles, shifting loyalties and unshakable hopes that come with having next to nothing in America.
"…it feels like you're watching a play on Broadway."
Bruce Fessier, The Desert Sun
"…about as perfect as theater gets."
Kay Kudukis, BroadwayWorld
From curtain up until curtain down, Lindsay-Abaire's script is packed with witty, funny, sad, insightful, dramatic, heartbreaking and honest dialogue. I can't recommend this show strongly enough."
Dee Jae Cox, Coachella Valley Weekly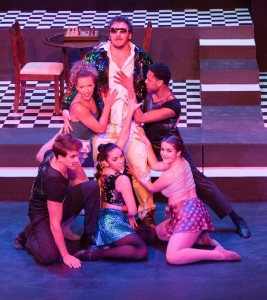 CHESSBook by Richard Nelson, Lyrics by Tim RiceMusic by Björn Ulvaeus & Benny AnderssonMarch 13-31, 2019..Directed by Ron CelonaMusic Direction by Scott StorrChoreographed by Michael Nickerson-RossiActors: Gabriela Carrillo (Florence), Garrett Marshall (Freddie), David Sattler (Anatoly), Michael Dotson (Molokov), Ashley Hunt (Svetlana), Glenn Rosenblum (Walter), Jeremy Whatley (Arbiter)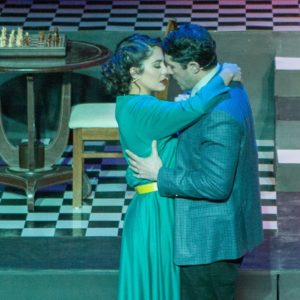 Ensemble: Sydney Clemenson, Brianna Maloney, Cassidy McCarron, Michael Rawls, Roman Skryabin, Daniel Sugimoto..
The collaborators on CHESS are giants of rock music (ABBA) and rock musicals, and here they have created a complex rock opera that played to full Broadway houses and standing ovations. In this musical, the ancient game becomes a metaphor for romantic rivalries, competitive gamesmanship, super-power politics, and international intrigues. The pawns in this drama form a love triangle: the loutish American chess star, the earnest Russian champion, and a Hungarian American female assistant who arrives at the international chess match in Bangkok with the American, but falls for the Russian. From Bangkok to Budapest the players, lovers, politicians, and spies manipulate and are manipulated to the pulse of a monumental rock score that includes "One Night in Bangkok" and "Heaven Help My Heart."
"CVRep Opens Its Stunning New Playhouse With a Fantastic Production of the Musical CHESS"
– Bonnie Gilgallon, Coachella Valley Independent
"Ron Celona continues his reign of Director extraordinaire, proving that he can masterfully stage any size production."
– DeeJae Cox, Coachella Valley Weekly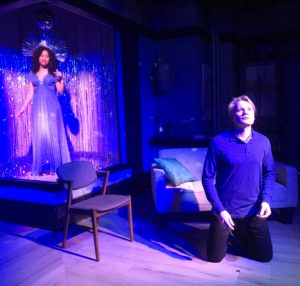 WHITEBy James IjamesJanuary 23-February 17, 2019..Directed by Ron CelonaActors: Paul David Story (Gus), Franelli Chapman (Vanessa/Balkonae), Vin Kridakorn (Tanner), Charlotte Munson (Jane)..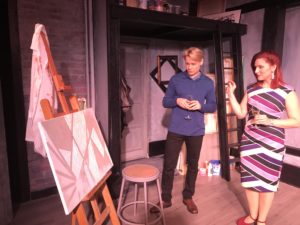 Gus is an artist. Vanessa is an actress. Gus wants to be presented in a major exhibition for artists of color, so he hires Vanessa to perform as Balkonaé Townsend, a brash and political artist that will fit the museum's desire for "new voices." Everything is great, until Balkonaé takes over and Gus has to deal with the mess he's made. This plays spins out of control as it explores issues of race, gender, sexuality, and art…
"…intensely provocative…this is a production that shouldn't be missed."
Jack Lyons, DesertLocalNews.com
"The production … is top-of-the-line. Director (and CVRep's founding artistic director) Ron Celona has assembled a terrific quartet of talented actors who give us all the right moves."
Winston Gieseke, Palm Springs Life
"The cast, as always with CVRep, is first rate and Ron Celona's astute direction and pacing gets the most out of everyone. "
Stephen Radosh, Gay Desert Guide

…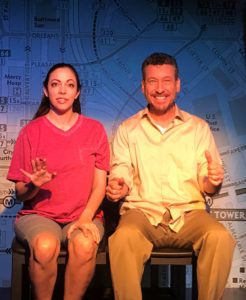 HOW I LEARNED TO DRIVEBy Paula VogelOctober 24-November 18, 2018…Directed by Joanne GordonActors: Angela Sauer, Dennis Gersten, Deborah Cardona, Charles Pasternak, Jillian TaylorHow I Learned to Drive by Paula Vogel is a funny, surprising and devastating tale of survival as seen through the lens of a troubling relationship between a young girl and an older man. It is a multi-award winning play including the 1998 Pulitzer Prize…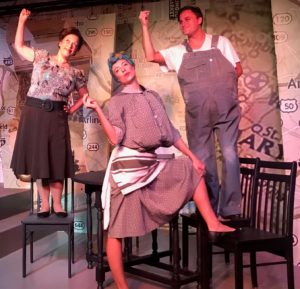 "…this 1997 Southern drama set in the 1960s is more relevant than ever ."
Bruce Fessier, The Desert Sun "Best Bets"
"This is a must-see production. It is what theatre is all about"
Kay Kudukis, Broadway World
"How I Learned to Drive, is a brilliant script. It is a play that every theatregoer should see. And CVRep's production will allow you to see it as the Playwright herself would no doubt appreciate."
Dee Jae Cox, Coachella Valley Weekly
"…a brilliantly crafted, non-linear drama…insightfully directed by Joanne Gordon…an award-winning director who knows her stuff and has orchestrated this outstanding cast to deliver the goods, which they do in spades."
Jack Lyons, DesertLocalNews.com