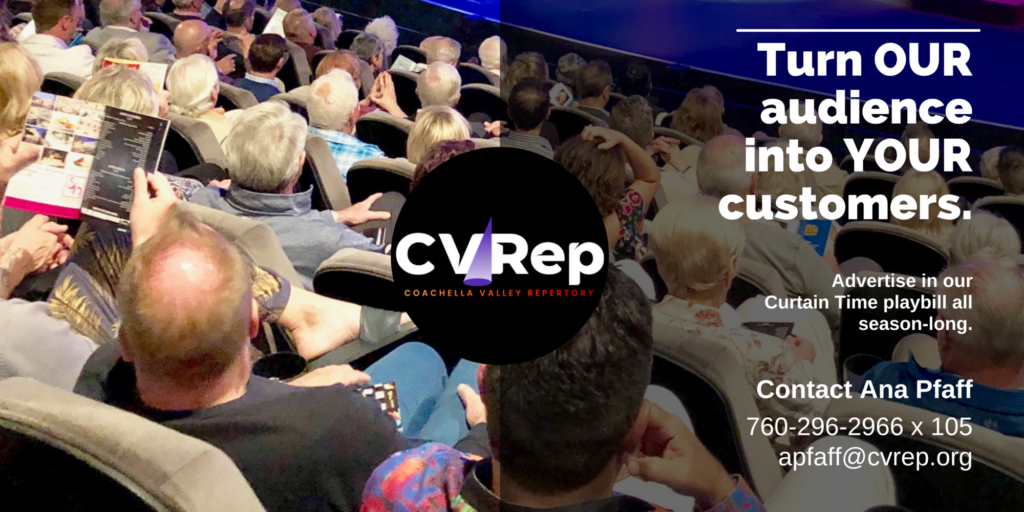 Turn Our Audiences into Your Customers
CVRep produces an issue of Curtain Time (our playbill) for each of our five season productions. This high-quality keepsake is distributed free-of-charge to all of our patrons for each of our 70+ performances.
We offer standard ads that guarantee placement next to editorial content, and economy ads that will be placed in a special advertising section in the back of the program.
CVRep's 2023-2024 Season features a diverse collection of stories that were chosen to challenge, entertain, and delight audiences. Thousands of theatre goers come to the Playhouse each year, and our new lineup of shows will provide a captivated audience who will read your message.

THE FANTASTICKS – A LOVE STORY REIMAGINED
November 1 – November 12, 2023
CVRep will present the West Coast Premiere of the re-imagined and re-gendered adaptation of the groundbreaking musical The Fantasticks.
SUMMER SESSION WITH THE BONES BRIGADE
December 6 – December 17, 2023
CVRep presents the World Premiere of this powerful new play. As part of the ORIGINS New Works Development Program, Summer Session with The Bones Brigade tells a powerful story of four teenage skateboarders and their two female friends.
CABARET
January 24 – February 4, 2024
From the minute you enter the Playhouse you will be transported; to a wild nightlife; a dangerous time in an unstable country; and take a journey unlike any you've risked before. What would you do? Cabaret is the musical that asks just that.
POTUS: Or, Behind Every Great Dumbass Are Seven Women Trying to Keep Him Alive
February 28 – March 10, 2024
This side-splitting comedy applauds the women who somehow manage to keep things running in, and out, of the presidential Oval Office.
NICE WORK IF YOU CAN GET IT
April 10 – April 21, 2024
This "S'wonderful" with a "Fascinating Rhythm" musical will hit the CVRep stage with Gershwin songs you'll be humming the whole way home.
Curtain Time Features
Five issues of Curtain Time are published throughout our 2023-2024 Season, coinciding with each of our five productions: The Fantasticks, Reimagined, Summer Session with the Bones Brigade, Cabaret, POTUS, and Nice Work if You Can Get It

Each issue is printed locally, of the highest "souvenir-worthy" quality.

With more than 70 performances throughout the season, your ad may be viewed by more than 10,000 potential customers.

Premium ads enjoy full-page, prime cover or inside cover placement in the program.

Standard ads guarantee placement next to editorial content.

Economy ads are placed in a special advertising section at the back of the program.

You can run the same ad across all five issues, or submit new ads for each issue.

Your camera-ready artwork can be submitted in either black and white or color (at no additional charge).



Ad Rates
All rates listed below include all five Curtain Time issues.
Premium Ads:
Inside front cover, inside back cover, back cover
Full Page: $2,500 (5.5"w x 8.5"h)
Standard Ads:
Near editorial content throughout the program
Full Page: $1,250 (5.5"w x 8.5"h)
Half Page: $950 (4.5"w x 3.5"h)
Economy Ads:
Special advertising section at the back of the program
Full Page: $1000 (5.5"w x 8.5"h)
Half Page: $625 (4.5"w x 3.5"h)
Call Ana Pfaff at 760-296-2966 x 105 or email apfaff@cvrep.org to reserve your ad space.
All artwork for the first issue is due September 10.
We look forward to working with you as we embark on a new and exciting season at CVRep!
If you would like to know more information or have questions, please contact Ana Pfaff at 760-296-2966 x 105 or email apfaff@cvrep.org