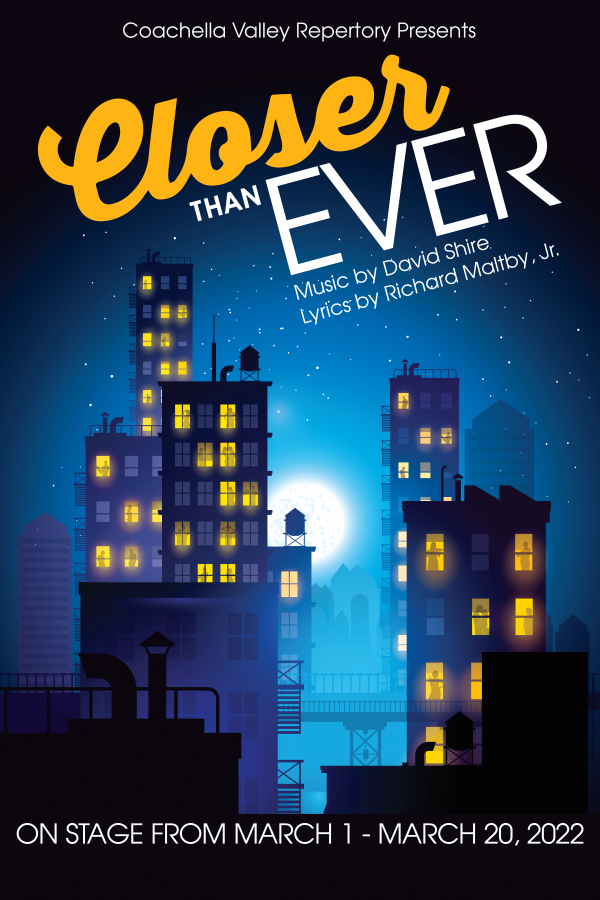 Music by David Shire
Lyrics by Richard Maltby, Jr.
March 1-March 20, 2022
Directed by Ron Celona
Musical Direction by Scott Storr
A look into the private song vault of Richard Maltby, Jr., and David Shire (Big; Starting Here, Starting Now; Baby), the revue, Maltby and Shire's Closer Than Ever, is filled to the brim with the brilliance for which these musical theatre giants are known.
Closer Than Ever is a nonstop exploration of everyday struggles in the "modern world." Topics ranging from unrequited adoration… to aging… to Muzak are tackled with resounding sincerity and precisely placed hilarity. Each song is a unique story told by a new character, taking audiences, not only into the songbook of Mr. Maltby and Mr. Shire, but into the minds of the individuals facing these relatable challenges.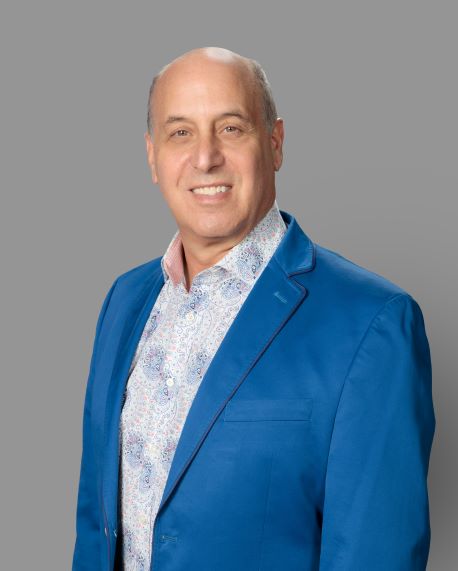 Ron Celona
Ron has produced, directed and choreographed over 70 productions. He began his career as an actor, dancer and singer in Philadelphia. He worked for several years as an actor in NY and Philly prior to moving to California in 1984. He continued his education in theatre at Cal State University Los Angeles. After years of performing on stage, TV and Film, he became the founder and Producing Artistic Director and producer of the American Musical Theatre Repertory in Los Angeles, CA; a company which produced workshops of new musicals.
Ron moved to the Palm Springs area in 1999 and was the founder and Producing Artistic Director for the Joslyn Players at the Joslyn Center Theatre (now named The Arthur Newman Theatre) from 1999 through 2007. During his tenure he created an award winning Theater Company and venue, supported and respected by the community.
After a year of planning, Ron's dream of creating a professional regional theatre was realized. In August of 2008, Coachella Valley Repertory, led by founding board member Gary D. Hall – then President, now Chairman Emeritus – was started. After several years of continuous sold-out shows in our 86-seat storefront theatre, it was necessary to expand. Ron and the CVRep Board's new dream was to purchase our own, larger theatre. The 2019-2020 Season "New Beginnings" was the first full-season presented at the brand new CVRep Playhouse in Cathedral City.
An alumnus of Directors LAB West, a branch of the Director LAB of Lincoln Center, Ron was invited to serve as a guest speaker at the 2006, 2008, and 2010 annual LAB in Los Angeles, California.
For more information on Mr. Celona's bio and career, please visit www.roncelona.com.
ABOUT THE CAST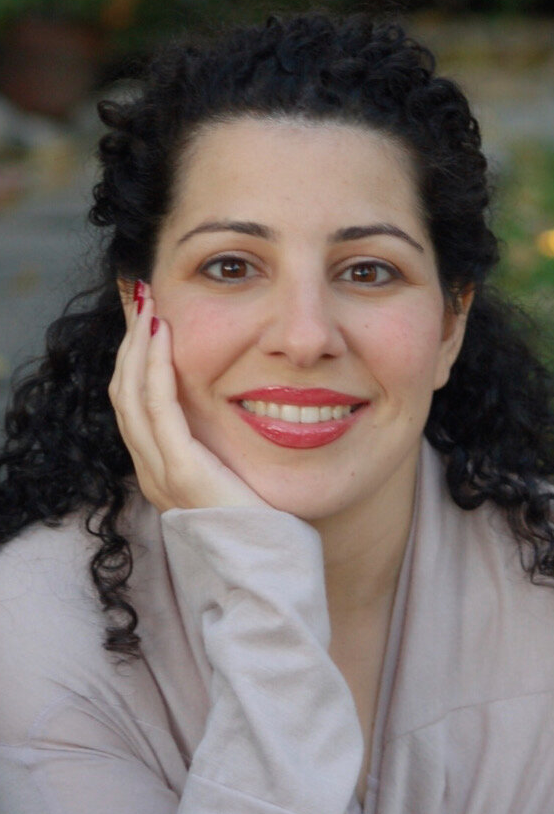 Julie Garnyé is an actress, singer, voiceover artist, writer,
producer, voice teacher, and director. She was most recently
seen in the First National Tour of the Broadway hit COME FROM
AWAY. Other notable theatre credits include: Jennyanydots &
Grizabella (Fifth National Tour CATS), Broadway's HAIR and
CHESS (both In Concert – New Amsterdam Theatre), Jenny
Steinberg (It Shoulda Been You), First Things Last (London's
Garrick Theatre), Bulda/Queen Iduna (Frozen Live) and three
Summer Musicals appearances at The Hollywood Bowl: Les
Misérables, Chicago and Mamma Mia!. Her VO, TV, & Film credits
include: Lyria in Tinker Bell & the Lost Treasure (singing voice,
Disney Animation), an original cast member of "FATWA! The
Musical" (HBO's Curb Your Enthusiasm), and singing on both the
OSCARS and Daytime EMMYs. Ms. Garnyé continues to perform
in concert with numerous symphony orchestras and is currently
recording her first album. Her first single, "Fields of Gold|Both
Sides Now" (Club 44 Records) is available on all music platforms
and her first book, "The Stage Actor's Handbook" (Rowman &
Littlefield Publishers) will be released this Spring 2022. Julie is
also an accomplished technical producer of online broadcasts &
podcasts and has her own hot cocoa bombe company. For more
information, visit: www.juliegarnye.com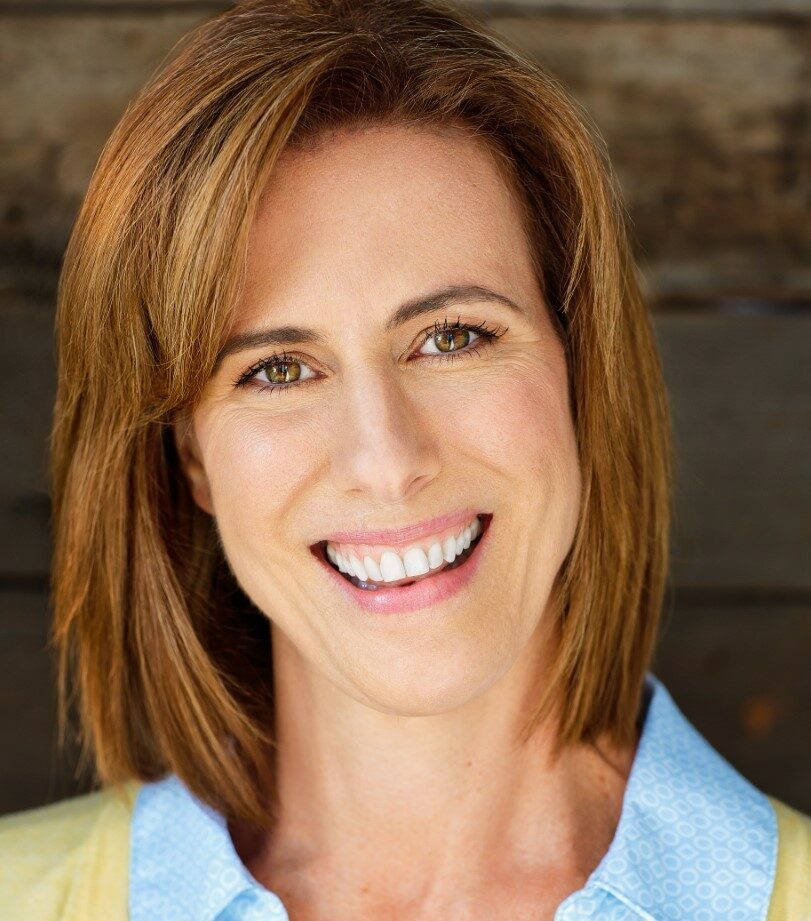 Janna Cardia is bursting with gratitude at the opportunity to be onstage again
at CVRep! You may remember Janna from CVRep's production of "Baby" in 2017. Her stage career spans into the double digits, but she also keeps busy as a commercial actress, audiobook narrator and yoga instructor. Some of her most treasured stage shows include; CINDERELLA w/Lea Salonga (Broadway Asia) MUSIC MAN IN CONCERT w/Shirley Jones, FULL MONTY/Vicki & MAMMA MIA/Tanya(@3DT) ASSASSINS/Sara JaneMoore (Pico Playhouse) HAIRSPRAY/Velma (PVPA) URINETOWN/Pennywise(Coeurage Theatre) MATILDA/Mrs. Wormwood("5" StarTheatricals) ALEXANDER'S NO GOOD VERY BAD DAY/Mom(South Coast Rep) VICTOR VICTORIA/Victoria (Stages St. Louis) SPELLING BEE/Rona (Riverside Theatre) FALSETTOS/Trina(Porchlight Theatre) MARY POPPINS/Miss Andrews(MTW) SWEENEY TODD/Beggar Woman,OLIVER/Nancy, INTO THE WOODS/Witch, JOSEPH/Narrator, GREASE Rizzo(All@Fulton Opera House) Huge thanks to Ron Celona for his dedication and leadership in the theatre, and to Scott Storr for his devotion to creating beautiful music. You can find Janna on Instagram@jannacardia or at www.jannacardia.com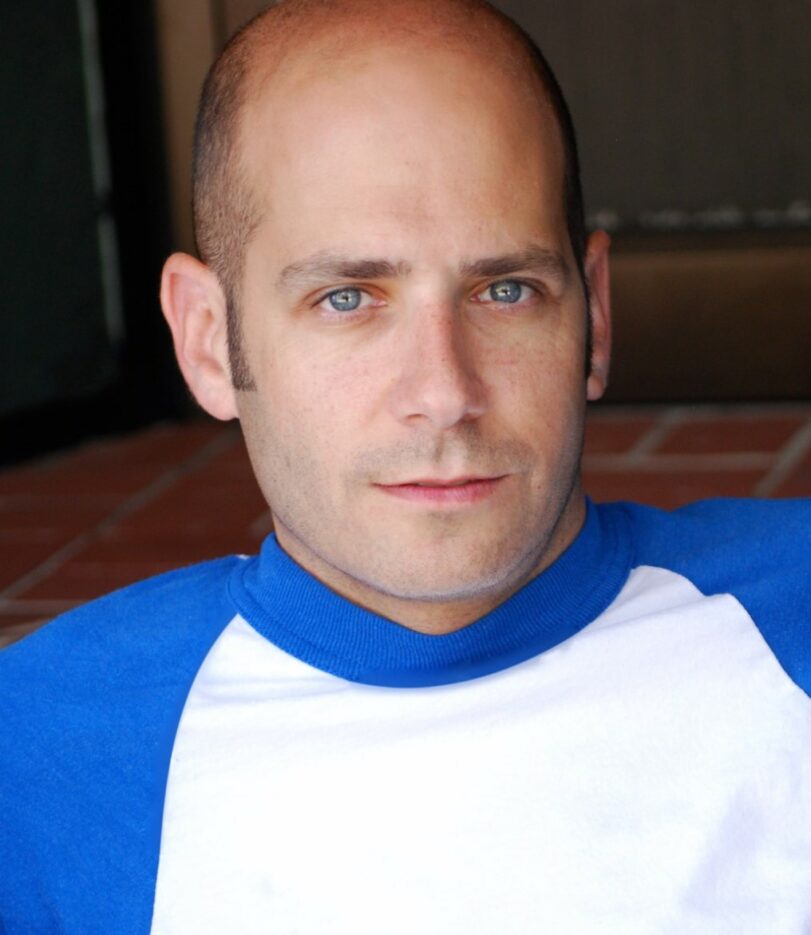 Jeffrey Landman is thrilled to return to CVRep, having previously starred as Ed Kleban in "A Class Act" (Desert Theatre League nomination: Best Actor), as well as appearing in multiple benefits and concerts here at CVRep. Jeffrey has starred on Broadway in "Les Misérables" and "Falsettos" (also national tour). Regional: "Sweet Charity", "Man Of La Mancha", "Disney's Frozen", "Young Frankenstein", "Joseph…", "Forum", "", "Kiss Me, Kate", "Can-Can", "A Year With Frog And Toad". Film/TV: "Halloween 5", "Halloween: 25 Years Of Terror", "Disney's Encore", "Home Alone 2", "Life With Mikey", "The Magic School Bus", "Gulla Gulla Island", "SNL". Jeffrey has sung with such artists as: David Foster, NoFX, Gloria Estefan, Maureen McGovern, Little Richard and Michael Jackson. Jeffrey holds a BFA from NYU's Tisch School Of The Arts, and has been a proud member of Actor's Equity Association for over 30 (gulp) years. Special thanks to Ron, Scott and Julie. Love to the family. And one for Mahler.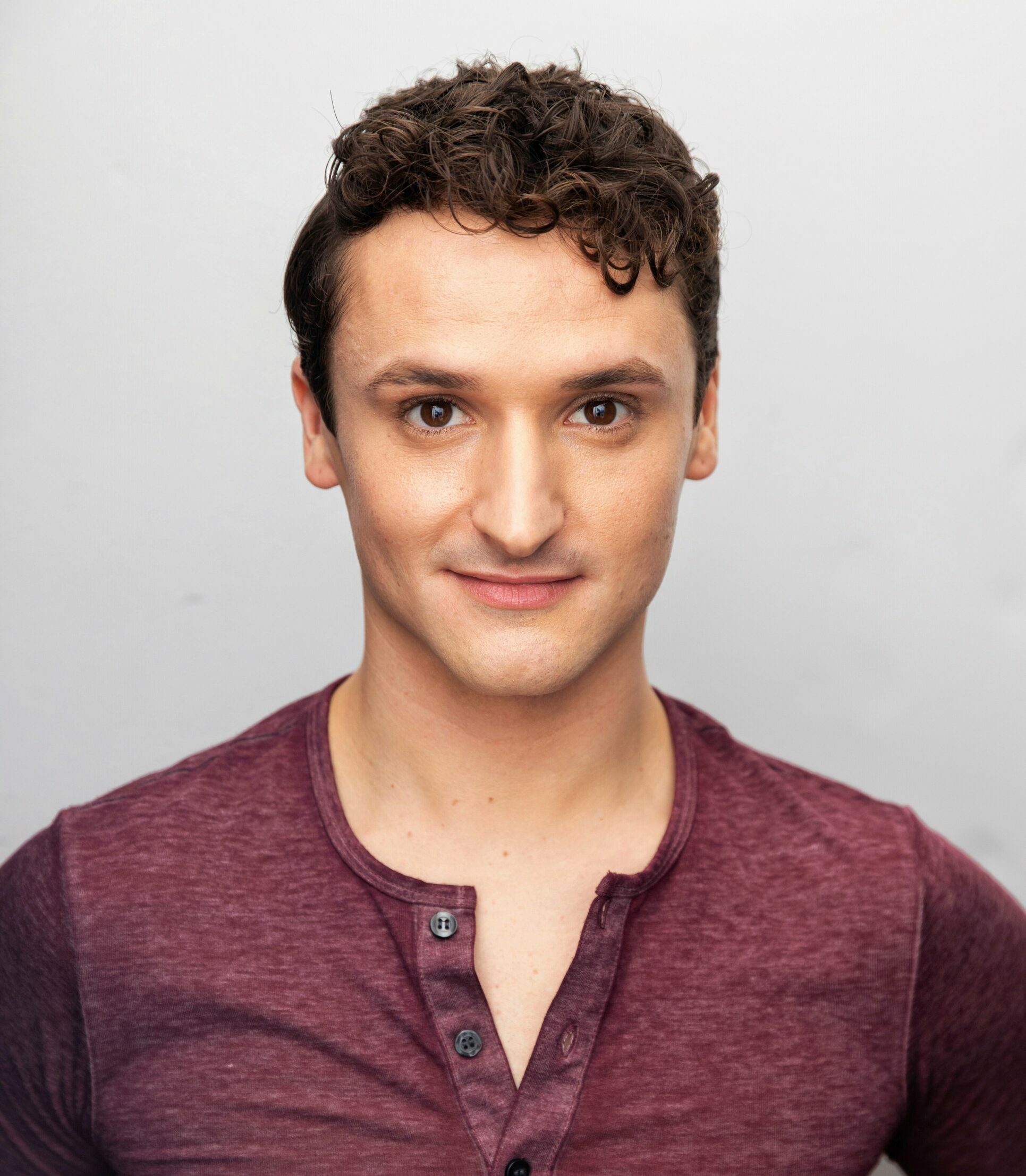 Michael Bullard's credits include: CVRep Debut! Broadway: Aladdin. Tours: Aladdin 1st National, West Side Story International (Baby John). Regional: West Side Story (Papermill Playhouse), Guys & Dolls and La Cage Aux Folles (Goodspeed Opera House), The Music Man (Ogunquit Playhouse), Mary Poppins (Arts Center of Coastal Carolina), Hello, Dolly! (3D Theatricals). Originally from Saranac Lake, NY, Michael holds a B.A. in Theatre Performance and Minor in Dance from Wagner College. Thank you to my Tim. IG: @themichaelbullard