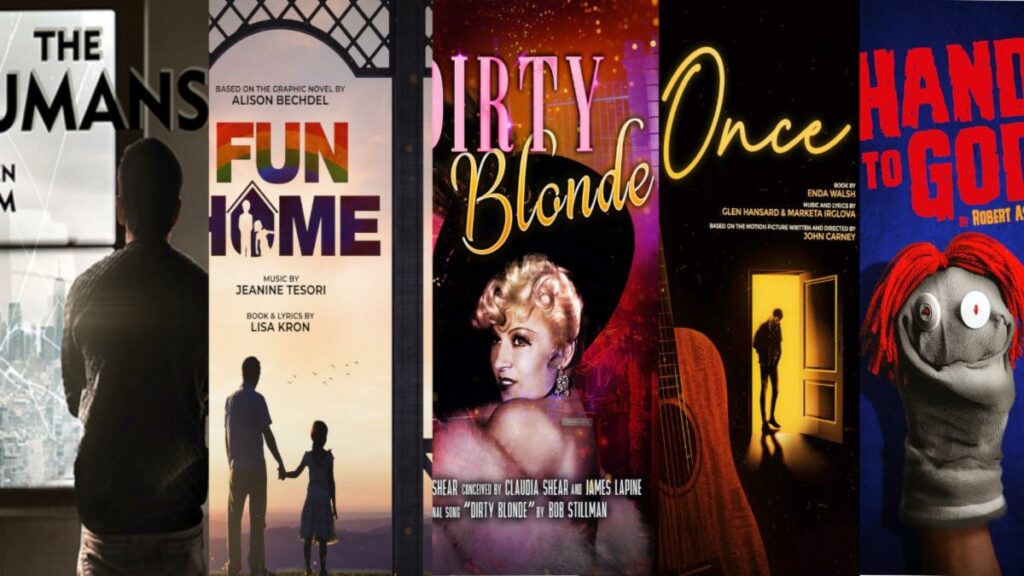 5 Tony Nominated and Award-Winning Shows

Subscription Packages and Single Tickets are on sale now.
Our subscription packages offer tickets to each of the five shows of our 2022-2023 Season and range in price from $290-$365 (+ fees) each. Be amongst the first to see each show with a Preview Package. Experience the excitement and glamour of Opening Night Packages. Choose evenings or matinees that work best with your schedule with our Regular Packages. Or join the conservation and dive under the surface with our Talkback Thursdays.
Purchase Tickets
Evening shows now begin at 7 p.m.
To purchase tickets, please call 760-296-2966 and dial – 115 or Email boxoffice@cvrep.org
Box Office Hours:
Tuesday – Saturday, 12pm-4pm,
Closed Sunday-Monday

The Humans
November 8-20, 2022
by Stephen Karam
Winner of four Tony Awards, Stephen Karam's family drama is an absolute must-see. As things go bump in the night, the angst and anguish of the middle class are shoved into the light in this uproarious, hopeful, and heart-breaking play. Over the course of a family dinner on Thanksgiving, our characters navigate the delicate nuances of the quirky and hilarious, to the painful conflict of real family life. Join in this transformative 'goose-pimply chiller' of a play at CVRep and remember what it is to be human. Read more…
Fun Home
December 6-18, 2022
by Alison Bechdel, Book by Lisa Kron, Music by Jeanine Tesori
Winner of five Tony Awards, including Best Musical, Fun Home is a musical adapted from Alison Bechdel's 2006 graphic memoir of the same name. Follow Alison as she uncovers the secrets through three different ages in her life. Fun Home isn't just a coming-of-age or coming out story, but one that sets out to unravel the many mysteries of childhood through which we can all identify. Join CVRep as they take on this moving journey of acceptance in the wholly original American musical. Read more…
Dirty Blonde
January 17-29, 2023
by Claudia Shear
This hit comedy garnered five Tony Award nominations and tells a story that is as unlikely, outrageous and as fascinating as Mae West herself. Come see how this icon of the past connects two lonely fans who are brave enough to see Mae West as their personal hero and ultimately lead to a fresh, budding, funny and sometimes bizarre romance. So, do it right and be sure not to miss this unique theatrical performance; for as Mae West said, " You only live once, but if you do it right, once is enough." Read more…
Once
February 21-March 5, 2023
Book by Edna Walsh, Music by Glen Hansard and Marketa Irglova, Based on the Motion Picture Written and Directed by John Carney
Once is a love story reminding us of how the language of music is universal. Winner of eight Tony Awards, including Best Musical, Once tells the story of Guy, an Irish songwriter who spends his days fixing vacuums in the Dublin shop he runs with his father. While on the verge of giving it up altogether, along comes a girl who convinces Guy to believe in love, music, and the courage to carry on.
Hand to God
March 28-April 9, 2023
by Robert Askins
Hand to God received five Tony Award nominations, including Best New Play. Tormented by feelings of lust and loss, an unhappy teenage boy tries to please his mother by performing with a puppet for her church ministry program. However, things get slightly out of hand and do not go according to plan. Tackling the nature of good and evil, Hand to God is a metaphor for getting to the crux of matters. Audience members should note that this dark comedy contains sexualized scenes, violence, profanity, and puppet nudity.