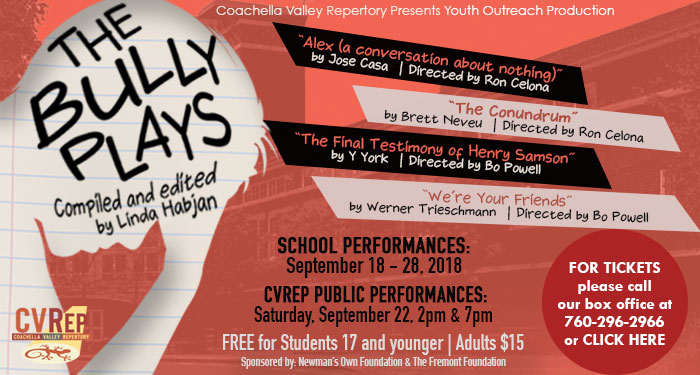 This season's Youth Outreach Production will be THE BULLY PLAYS. Four short 10 minute plays in one program with a cast of high school aged actors. Following each performance, will be a Q&A with the cast, and director Ron Celona.
There will be two public performances on Saturday, September 22nd, at 2pm and 7pm. The plays are FREE for all students 17 and younger, $15 for Adults.
If you are a teacher and interested in having your class attend one of the designated school performances at CVRep (Sept. 18-28, Tues-Fri 9am & 10:30am) please contact Gary Palmer at 760-296-2966 x105.
CVRep's Annual Youth Outreach Production is generously sponsored by Patty & Arthur Newman / Newman's Own Foundation, and Barbara Fremont / The Fremont Foundation.